Death of Evidence
Tuesday, October 22nd, 2013
1:30 – 2:30pm
Atrium, Scott Library 
Live Streaming:
http://www.yorku.ca/lts/live/YUL/2013OAW/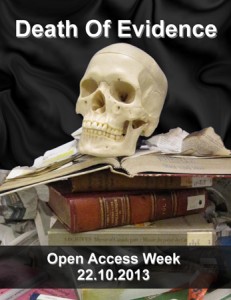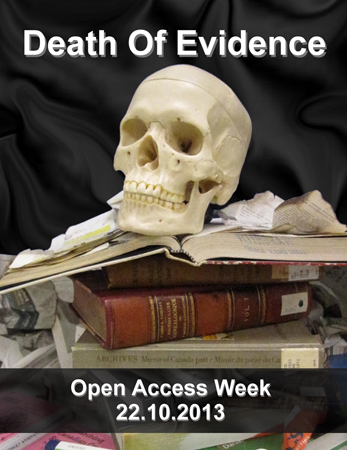 For Open Access Week, join us in mourning the passing of evidence-based decision making in Canada.  From the cancelling of the long form census, to the cuts at Library and Archives Canada, to the muzzling of Canadian government scientists, it's been a tough few years for evidence in Canada. Our beloved friend has finally given up the ghost.
The procession will begin outside in Central Square, outside Scott Library at 1:30pm. A bagpiper will pipe us into the Atrium where the funeral will begin.
 The Master of Ceremonies will welcome Evidence's loved ones. We will then hear eulogies for Science, The Census and Library and Archives Canada.
 At that point, members of the audience will be invited to either speak on behalf of those being mourned themselves or to ask questions of the eulogists.
 Following the funeral there will be snacks and an opportunity to send a postcard to the Prime Minister of Canada on behalf of Evidence.
 We also have a Twitter obituary for evidence contest running from October 15 to October 22nd. The rules are here.
Our Officiant:
Patti Ryan
Patti Ryan is Political Science Librarian in the Scott Reference and Collections Department and is a member of the York University Libraries Scholarly Communications Committee.
Our Eulogists:
Dawn Bazely (Speaking for muzzled scientists)
Dawn Bazely is a professor in biology at York, and director, since 2006, of IRIS, York University's Institute for Research and Innovation in Sustainability, a pan-university, senate-chartered research centre, where she has been able to climb out of her laboratory silo and participate in conversations and research related to science policy.  Bazely supports Open Access and has worked closely with York's digital initiatives librarian to create the Digital Archive, Churchill Community of Knowledge, in Yorkspace. This archive celebrates one of the longest running ecology field research projects in Canadian history – the lesser snow goose studies at Churchill, which began in 1967.
Janet Friskney (Speaking for Library and Archives Canada)
Monday to Friday, Janet Friskney is a research officer in the Faculty of Liberal Arts & Professional Studies at York University. On some evenings, weekends and holidays, she undertakes executive duties for the Bibliographical Society of Canada. On behalf of the Society for the past two years, she's been monitoring the situation at Library and Archives Canada. It's a dispiriting duty, and one which intermittently provokes her into public commentary about its decline.
Valerie Preston (Speaking for the long form census)
Valerie Preston is Professor of Geography at York University, and was previously the York Director for CERIS — The Ontario Metropolis Centre. A social geographer, her research examines migration trends and policies with particular attention to questions of exclusion and inclusion for immigrant men and women.  She has worked closely with community and government partners on research about immigrant integration in Canadian housing and labour markets.  Her publications appear in numerous journals and she is currently co-editing a book entitled Liberating Temporariness?: Migration, Work and Citizenship in an Age of Insecurity to be published by McGill-Queen's University Press.
Postcard Tabling at Other York library locations
Wednesday, October 23
Steacie Science and Engineering Library: 11am – 12pm
Osgoode Hall Law Library: 12:30 – 1:30pm
Peter F. Bronfman Business LIbrary: 2:30 – 3:30pm
Thursday, October 24
Frost Library: 10:30 – 11:30am
Background Information
1984 in 2012 — The Assault on Reason by Allan Gregg is a great place to start.
Library and Archives Canada
The Long Form Census
Muzzled Scientists
Other Open Access Week Resources
For information contact John Dupuis (jdupuis@yorku.ca), Chair, Scholarly Communications Committee, York University Libraries.
Our thanks to:
University Librarian's Office, York University Libraries
Library Facilities, York University Libraries
Library Computer Services, York University Libraries
York University Bookstore
Learning Technology Services
Theatre @ York Props Department