Photo credit: Untitled image by Hermann via Pixabay, available under CC0 license
The beginning of the Fall semester is right around the corner! You've probably selected your courses and are getting ready to start classes in September.
But have you thought about the textbooks you'll need for the upcoming semester?
Did you know that York University Libraries buys a ton of print textbooks and puts them on reserve at the library's Keele and Glendon locations? Use the library's website to find out if your course textbook is on reserve and determine which library location you can check it out from.
Watch this video to learn more:
Video transcript to "Find your course textbooks on the library's website"
Don't want to watch the video? Follow these steps instead:
Step 1: Go to the York University Libraries' website.
Step 2: Type the course textbook's title into the search bar, select Title keyword search, and click Find.
Step 3: On the results page, scroll through the list of results and find the year / edition you need. Click the title of the book to view the full record and confirm you have the right textbook.
Tip:

The most recent edition won't always appear at the top of the list.
Step 4: The record contains the following information you will need when borrowing the book:
Location:

Which library branch has the book (i.e. Bronfman library, Frost library, Scott library, or Steacie library)

Call number:

This number is on the spine of the book and is how you will locate the book in the reserves section of the library.

Status:

Shows how long you can borrow it for. If the colour is green that means the book is available. Most reserve items can be borrowed for 2-hours, 1-day, or 3-days.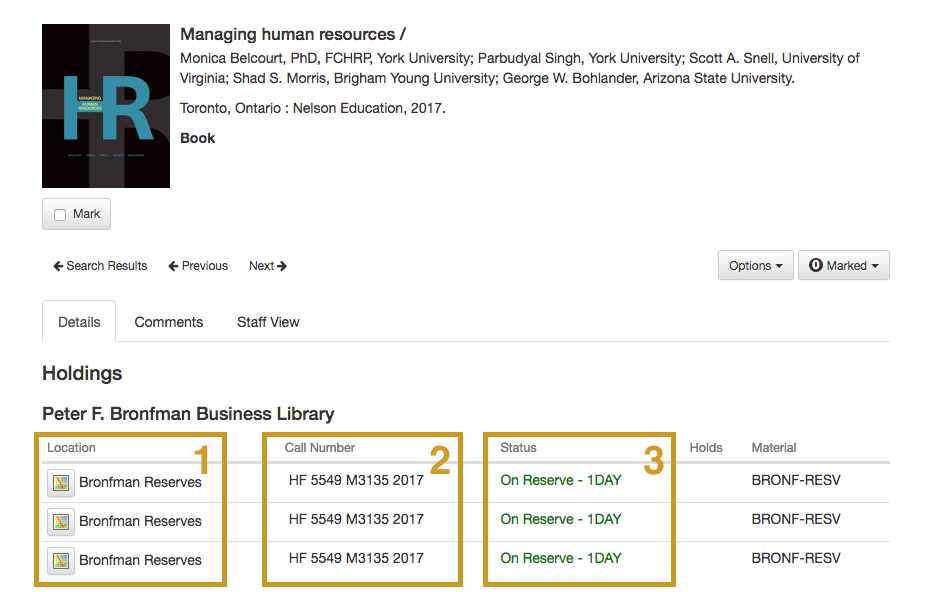 Happy searching! And if you need help with anything library-related, check out our Ask Us page to learn how you can get live chat help, in-person assistance at any of our locations, and email/telephone help.