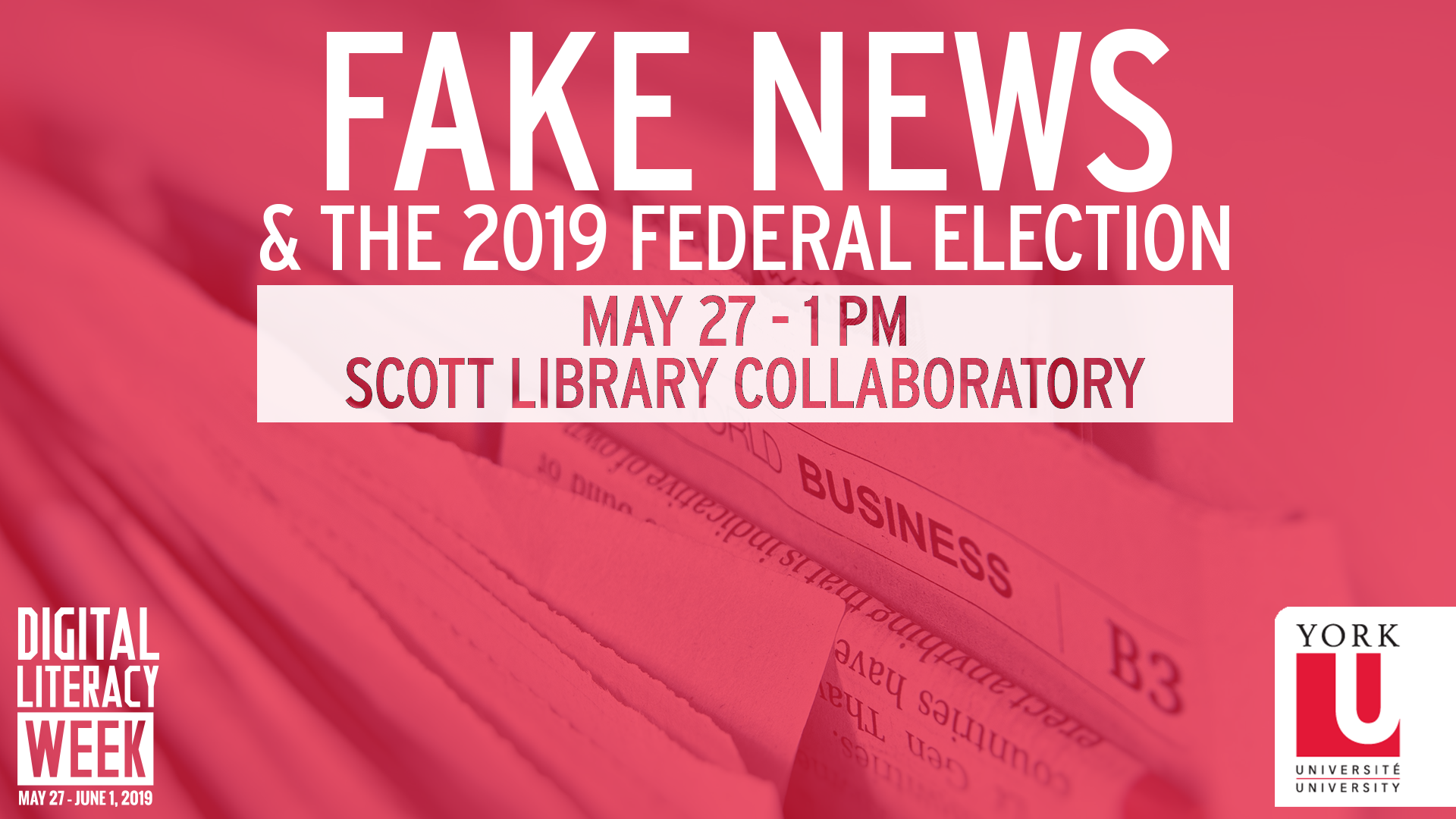 With a federal election coming up in October, learn how to best separate the real news from all the fake information circulating online. Featuring Dr. Dennis Pilon (Department of Politics), Gail Cohen (former journalist-in-residence, Osgoode Hall Law School), John Dupuis (York University Libraries) and Dr. David Montgomery (York University Libraries) we will discuss just what constitutes Fake News, why it is so prevalent, and how to spot it when you do see it.
Panelists & Topics
Moderator: Anna St. Onge, Director, Digital Scholarship Infrastructure – York University Libraries
John Dupuis, Scholarly Publishing Librarian – York University Libraries
Fighting climate change is likely to be an important issue is the coming election. The carbon tax is the preferred option on the centre left, but the Conservatives will fight against it tooth and nail. We'll take a look at how they will likely structure their campaign of deception, deflection and disinformation.
Gail Cohen, Legal Journalist & former Journalist-in-Residence – Osgoode Hall Law School
What are the realities and challenges for journalists covering elections in the age of social media and fake news? Hear what the research, and journalists themselves, are saying about covering elections in these difficult times.
David Montgomery, Digital Scholarship Librarian – York University Libraries
Recently, the term 'digital exhaust' has emerged as a talking point underscoring the phenomena of data surplus.  Following the study of Shoshana Zuboff (The Age of Surveillance Capitalism : Public Affairs, New York, 2019), I will briefly discuss the wider ramifications of the term, it's origin and usage, and it's relevance to the fake news debate.
Dennis Pilon, Associate Professor & Undergraduate Program Director – Department of Politics, York University
The digital realm has become a new frontier for conventional electoral politics and Conservatives are proving to be some of the most energetic pioneers in developing new techniques to reach voters and affect agenda control. But researchers are unclear about the scope and depth of such efforts and getting reliable data is proving to be a challenge.