Dean of Libraries
York University Libraries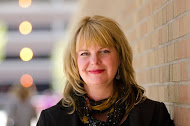 JOY KIRCHNER is the Dean of Libraries at York University since 2015. A new Libraries strategic plan and a new organizational restructure has been launched to reinforce the Libraries' expertise in community engaged archives, digital scholarship, data and repository infrastructure, scholarly communications and research in alignment with the University's academic plan and its research intensification priority. In tandem a multi-year Equity, Diversity, Inclusion and Belonging planning framework and roadmap was launched last year.
Joy initiated two campus steering committees to advance campus engagement and policies on open access, open education and data management. One of these, the Open Access & Open Data Steering Committee she co-chairs, led to a Senate approved University open access policy in 2019. More recently, she is co-chairing a new campus Open Education Steering Committee to advance campus engagement in open education initiatives. She also serves on the President's Advisory Council on Equity, Diversity and Inclusion (EDI) where the committee is working towards a comprehensive EDI framework for the University. She was asked to serve on the University's Affirmative Action committee where all faculty appointments are reviewed from an equity and AA lens.
Joy was elected to serve on SPARC's Steering Committee and on the Ontario Council of Research Libraries Executive, where she is now Past-chair. She is past chair of the Canadian Association of Research Libraries (CARL) flagship Advancing Research Committee and is chair of CARL's Open Education Working Group. She also serves on the Association of Research Libraries Director's Planning Committee and is a Champion for the Hemispheric University Consortium Library Network.
Prior to this position Joy was the Associate University Librarian for Content & Collections at the University of Minnesota where she launched a new Open Scholarship and Publishing Office and she was the head of UBC's Scholarly Communication & Copyright office. Previously she was a librarian at Columbia University. Her current research and scholarship is focused on building collaborative networks to advance, resource and provision emergent areas in digital scholarship and has a long history of providing consultation to other North American institutions on advancing open access policies and programs including several library consortia.