Persistent links (aka permalinks) are stable links that make it easier for the York University community to access Omni records, e-articles, e-books and other scholarly content. These links facilitate access to subscribed resources via York's proxy server and thus provide seamless authentication when off-campus. These links can easily be used in your Moodle course pages and other online student resources.
Please contact our reference services team (reflib@yorku.ca) if you require assistance.
For questions about copyright, consult the university's Copyright Office website. Specific copyright questions can also be emailed to copy@yorku.ca.
Creating Permalinks for resources via Omni
The Libraries recommend using Omni to create permalinks as much as possible. You can easily link to a record in Omni (for a book, a streaming film, an article) regardless of whether it is physically available in the libraries or if it is available online. If available online, the Omni record will provide the relevant links and will manage all required logins to facilitate off-campus access.
To start, use elements from the citation (e.g., article title, journal title, book title, author, etc.) to search Omni for the resource. If you find what you need, follow these instructions:
1. Click on the title for the relevant resource.
2. Click the Permalink button in the "Send to" section.
3. Copy the Permalink to the clipboard.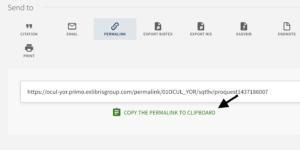 4. Add the permalink to your Moodle course page or other online student resource. The link will always return users to this record and full-text options for electronic versions will be displayed by Omni. If the user is off-campus, they will be asked to authenticate via Passport York when attempting to access full text.
Creating Permalinks for resources not in Omni
If the resource you require is not in Omni, you can still create a permalink for it (in almost all cases). However, the steps for doing so can vary a bit from database to database. To start, see the the following guide: Creating Permanent links to articles in different databases.
For legal databases, see: Linking to articles in Legal databases.
For some business resources, see: Linking to Library E-Resources for Business.