Collections Updates from York University Libraries (YUL)
The Abstract
Volume 1, Issue 1 | December 2017
CONTENTS:
York University Libraries' Collections Budget 2017-18: An Overview
YUL's budget is split into two components: operating and collections. The collections budget covers the purchase and subscription costs for books, journals, databases, data sets, newspapers, music, film, maps, GIS, etc. in physical and online/streaming formats.
This fiscal year YUL is budgeted to expend around $13M CAD, which represents a moderately sized budget for a comprehensive university of York's size. Much of this amount is spent on online resources – journal packages in particular – although the Libraries maintain a firm commitment to continuing to invest in formats, like the printed book, that continue to serve many disciplines very well.
In recent years, York University has demonstrated considerable support for YUL's collections budget, helping to protect purchasing power in a climate of challenging inflationary pressures and volatile currency fluctuations. YUL must pay for most collections purchases in US dollars. Leveraging local expertise and that of other Canadian universities through national and provincial consortia has helped YUL to contain costs, bolster collective purchasing power, and better enable the assessment of resources the Libraries have purchased. We continue to be cautious regarding ongoing budgetary commitments and believe this approach has served the York community well over the past several years.
Sustained Support for Open Access
Most published scholarly literature is made accessible through individual or institutional subscriptions. Open Access (OA) strives to make online scholarly literature accessible to all. YUL is a strong supporter of this shift in the publishing landscape. Currently the Libraries provide financial support to individual York researchers publishing in OA journals and funds for myriad open access publishing models such as Knowledge Unlatched, the Public Knowledge Project, SCOAP3, Open Library of the Humanities. For more information on the range of ways YUL participates in OA and supports the York University community, visit the Publishing Support page.
Collection Development Policy
YUL's collection development policy was recently revised to reflect the new realities of scholarly publishing, and significant changes in the modes of production and dissemination of scholarly content. The revised policy reflects our continuing commitment to building responsive collections that support research intensification efforts on campus, as well as the teaching and learning needs of students, researchers and faculty. Similarly, our policy reflects an intentional attempt to balance building legacy print collections with serving the immediate needs of our community. 
Scholarly Analytics
YUL's scholarly analytics librarian, William Denton, is a member of the Libraries' Collection and Content Group (CCG). His work centres on applying data science to better understand the users and usage of our collections, resources and services, much of which falls into the CCG's mandate. He has built a dashboard that provides the Libraries with a daily overview of what's happening at our research desks, our circulation desks, and on our web sites.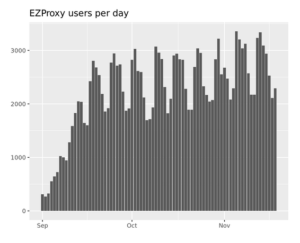 The chart above shows that in November 2017, every day from 2,000 to 3,000 people were using online resources such as Scholars Portal, Proquest, JSTOR, Science Direct, EbscoHost, etc. By next summer, about 90% of the York community will have accessed these resources from off-campus at least once during the year. Measuring off-campus use is especially important at York because it is a heavily commuter campus.
A public version of the dashboard is under development. The source code will also be released under an open license so it can be used elsewhere.
Advocacy for Users in Database Design
The CCG plays an active role in ensuring that the research databases to which YUL subscribes meet the needs of students and faculty in terms of interface design, search capabilities, and content.  To this end, we are engaging more proactively with our key vendors to offer feedback, register our concerns and better understand the vast content available in their products. A first information session was held with representatives from ProQuest on December 4th. We were joined include by colleagues from Ryerson and University of Toronto.
The Indigenous Content Working Group
The Indigenous Content Working Group was launched in June 2017.  Its mandate is to strengthen YUL's Indigenous content and better inform collection development and management practices through building an awareness of Indigenous (First Nations, Métis, and Inuit) culture, knowledge, issues, and worldviews. The Group will review the Library's current collection building and management practices (including acquisition, subject and classification access, and promotion) to identify and address gaps. Group members will work with the community to further develop and increase access to Indigenous content and collections across all disciplines.