From its inception, Canadiana has been a special focus of the archives' collection mandate. In 1981, the Margaret Laurence acquisition firmly established York's reputation as a serious collector of Canadian literary papers, at a time when Canadian authors were beginning to be recognized and studied. Professor Thomas, a Laurence scholar, taught some of the first Canadian literature courses in a Canadian university, and through her friendship with Laurence, played an important role in the transfer of Laurence's papers to York.
Clara McCandless Thomas, esteemed educator, author and feminist, was born in Strathroy, Ontario in 1919. She was educated at the University of Western Ontario (B.A. 1941; M.A. 1944), and the University of Toronto (Ph.D. 1962). Doctor Thomas passed away 26 September 2013.
A founding woman faculty member of York University, she began teaching in the English Department at York University in 1961 and retired from there in 1984. She was subsequently named a Canadian Studies Research Fellow in the York University Libraries and Emeritus Professor of English.
Thomas has received honorary degrees from York University, Trent University and Brock University, and she is also a Fellow of the Royal Society of Canada. She has served on the editorial board of such academic journals as Journal of Canadian Studies, Journal of Canadian Fiction, and the Literary Journal of Canada (second edition), as well as writing articles on topics in Canadian literature for many journals. She is the author of several works including, Love and Work Enough: The Life of Anna Jameson (1967), Margaret Laurence (1969), Ryerson of Upper Canada (1969) and, among others, The Manawaka World of Margaret Laurence (1975). She co-authored William Arthur Deacon: A Literary Life (1982) with John Lennox. Her memoirs entitled Chapters in a Lucky Life were published in 1999.
The Clara Thomas Archives at York University has been a beneficiary of Dr. Thomas' extensive literary connections, moral and financial support, and good will for many years. Donations can be made in her memory to York University using this online form from Advancement.
Prof. Thomas's own archival papers have their home in York's archives, the finding aid for which can be found here.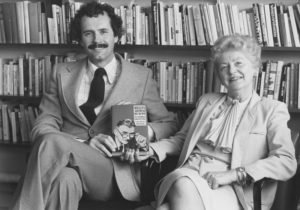 Professors John Lennox and Clara Thomas at the launch of William Arthur Deacon: A Literary Life, 1982