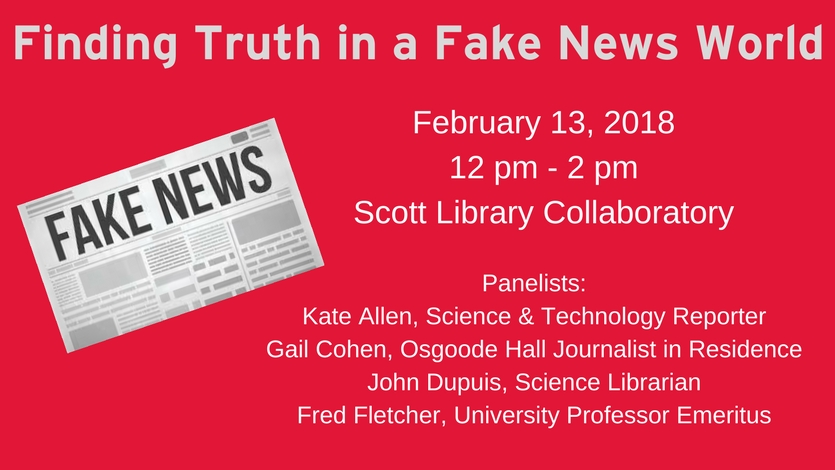 Fake news is everywhere. What is real and what is fake? Can news sources be trusted? To counter the spread of fake news, York University Libraries is organizing a panel of journalists and academics on Feb 13, 2018 from 12pm-2pm at the Collaboratory on the second floor of the Scott Library. The panel discussions will highlight how news is gathered and disseminated, and the implications of sharing inaccurate information.
Panelists for the event include:
Kate Allen, Toronto Star Science and Technology journalist

Topic: The journalistic process

Gail Cohen, Osgoode Hall Law School Journalist in Residence

Topic: Fake news, journalistic integrity, and trials by media

John Dupuis, Science & Engineering Librarian at York University

Topic: Predatory journals as academic parasites

Fred Fletcher, University Professor Emeritus, Communication Studies and Political Science

Topic: "Fake News" - What it is and why it matters
We'll also be hosting a series of 'Spot the Fake News' games before the event. Make sure to stop by so you can win some tasty prizes. If you'd like to brush up on your fake news skills before the event, check out our research guide on finding and spotting fake news (Version française de ce guide).
We hope to see you on February 13th for our in-depth examination of finding truth in today's fake news world!