On February 24, 2022, Russia launched a full-scale invasion of Ukraine. The York University Libraries' War in Ukraine Subject Research Guide, prepared by Senior Librarian Mary Kandiuk, in the Department of Content Development & Analysis, serves as a starting point to locate background information about Ukraine, the events leading up to the Russian invasion of Ukraine, and the ongoing war in Ukraine. It includes links to resources held by York University Libraries as well as freely available resources. Sections in the guide include: Ukraine - The Country, The Conflict - Historical Background, The Conflict - Current Situation, Disinformation, Scholarly Initiatives.
The Guide enables users to explore and understand this conflict from a historical and political perspective as well as locate regularly updated information about recent developments from a wide range of sources.
"As an active researcher of Ukrainian identity and literary history, I welcome York Libraries Subject Research Guide, War in Ukraine which offers an excellent introduction to the democratic sovereign nation of Ukraine," says Karen Krasny, Professor of Language and Literacy in the Faculty of Education, York University.
From 2007 to 2014, Krasny conducted ethnographic research on the construction of post-Soviet Ukrainian national identity sponsored by SSHRC and the Canadian Institute of Ukrainian Studies. She encourages users of the guide "to pay close attention to the historical events that mark Ukraine's hard-fought struggle to maintain a distinct identity throughout centuries of occupation in order to gain greater insight into present-day Ukrainian-Russian relations and the connections between language, identity, and nation-state since the dissolution of the Soviet Union."
The Subject Research Guide on War in Ukraine can be found here.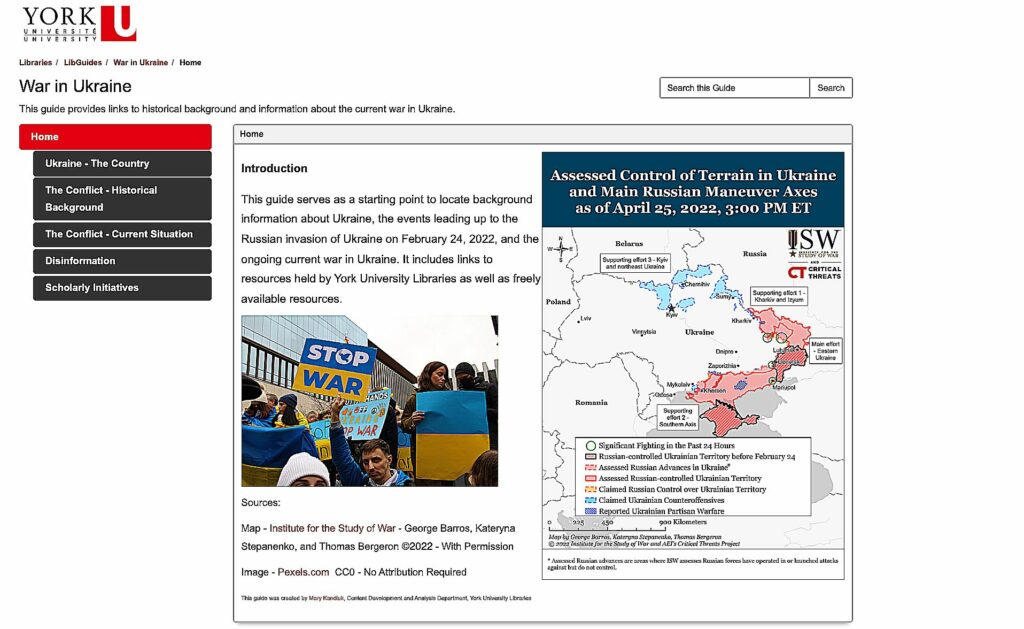 More about this guide
According to Krasny, "the links to library print and web resources in the LibGuide War in Ukraine can help users challenge the authority of historical writing that worked to delegitimize the right of Ukraine to exist. The selected maps provide further understanding of the geo-political conflicts that have determined Ukraine's journey to independence. The maps and historical links also provide insight into the present buildup of troops in NATO flank nations that are at risk of aggressive attacks aimed at contiguous expansion."
Where to find other Subject Research Guides at York University Libraries
Librarians and archivists at York have created online research guides covering a broad range of disciplines as well as current and specific topics to support student and faculty research. They are designed to identify and provide easy access to library resources as well as freely available resources. Library research guides can be accessed from the library home page. A full list of research guides is also available here.
If you have suggestions for resources that are not yet part of our collection, please let us know by emailing your ideas to libraries@yorku.ca