We are the library at York University that supports business research and teaching.
Award Winning Architecture
Our History
Our Collection
Peter F. Bronfman Library Services and Resources brochure
Floor Plan
Our Service Charter
Award Winning Architecture
The Peter F. Bronfman Library is a part of the Schulich School of Business building which was designed in collaboration with the head librarian Elizabeth Watson by the architectural firm Hariri Pontarini.  The Schulich School of Business was awarded 2006 Governor General's Medal for Architecture and it was ranked one of the most beautiful business schools.
 Our History
The history of the Peter F. Bronfman Library is closely linked to the development first of the Faculty of Administrative Studies and then the Schulich School of Business.  For an early history of the development of the Faculty of Administrative Studies read From Vision to Reality: The Founding  of the Faculty of Administrative Studies, 1965-1972 by Dr. James Gillies.  This book also provides an insightful glimpse of how business was conducted in Toronto in that era. In addition,  Wikipedia provides an overview of the history of the Schulich School of Business which opened its doors in August  2003 (http://en.wikipedia.org/wiki/Schulich_School_of_Business).
Our Collection
The Peter F. Bronfman Business Library is the primary location for York University Libraries business collection. A comprehensive collection of print, electronic and data resources support research and teaching in business at York.
For more information about our collection please consult:
Business Databases A-Z
Print and Video Collection
Bronfman Library Services and Resources brochure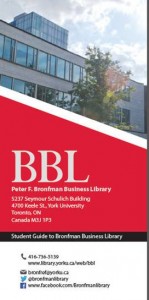 A quick overview of our services and resources to help make using the Bronfman Library easier!
Introduction
The service charter sets the scope and levels of service and facilities provided to the students, faculty and staff of York University and the expectations for library client behaviour. The charter includes policies, service benchmarks, feedback mechanisms and complaints procedures. The staff are committed to meeting your research needs by delivering an extensive range of services in the Library, providing an environment conducive to research and study, via remote access to our electronic resources, via our department Web site, by email, and by telephone.
We value your feedback on our performance.
Mission Statement
The York University Libraries mission statement is:
To pursue, preserve and disseminate knowledge;
To meet the challenges of evolving technologies for our diverse community through leadership and innovation;
To advance teaching, learning and research at York University by building quality collections and services for present and future generations.
Peter F. Bronfman Business Library Motto
If it is only difficult, it is done; if it is impossible we shall see. Charles-Alexandre de Calone, Minister of Finance to Louis XVI
We will:

We respectfully ask you to:

Provide courteous, prompt and accurate service to every customer
Listen to your concerns, take appropriate action and seek and be responsive to feedback
Collect and manage resources efficiently to support teaching, learning and research
Provide skilled assistance to help locate resources and information
Provide access to technologies to support library collections and services
Endeavour to provide equitable access to information and services for teaching, learning and research, independent of resource format and location
Provide opportunities for instruction about our resources and help library clients to develop information literacy skills as a basis for independent, life-long learning
Provide a current dynamic Library Web site to guide you to information
Maintain a comfortable and quiet environment with a variety of facilities and equipment that are conducive to study and research
Assist library clients with special needs
Liaise with faculty to ensure Library services and resources support teaching and research
Publicize services and communicate with you about our services and resources

Read and observe the Library's Rules of the House
Treat staff courteously
Return all resources in good condition by the end of the loan period or earlier, if recalled
Read and respond to Library notices in a timely manner
Respect Library resources, equipment and environments, help conserve them and notify staff if they are damaged
Visit the Bronfman Business Library  Web site and  the York University Libraries Web site
Observe policiess on group study room ,  noise, food, drink and cell-phone use and dispose of waste in appropriate receptacles
Be considerate of the needs of others and treat the Library as a shared space
Observe any legal and contractual requirements relating to the use of library resources such as copyright restrictions
To not leave your research needs or printing to the last minute
Take advantage of opportunities offered by the library for acquiring information literacy skills
Assist the Library to enhance its services and resources by providing feedback

In addition, faculty can assist by:

 Providing reserve reading lists in advance to allow sufficient time to process the materials required
 Making recommendations re gaps in the collection
 Working with Librarians to develop instruction sessions
Service Benchmarks
The Library will endeavour to meet the following service levels when normal working conditions apply.
Library opening hours, including holidays, will be updated on our Web site regularly to ensure accuracy.  Library Hours are posted at entrance to the Library.
Computers, a photocopier,  scanners,  projectors, and printing are available in the Library during opening hours. We respond promptly to any notifications of problems with these services.
Assistance with research will be available at least 90% of the time that the library is open.
Research services will be available face to face, via telephone, email, and instant messaging, and via guides available on the Bronfman Business Library Web site.
Reference librarians will prepare and teach information skills sessions, normally expecting two weeks notice.
The contents of the materials on the Bronfman Business Library Web site will be reviewed at least annually.
Every staff member will be given appropriate training for their position, including service excellence training.
In-house items for Reserve and eReserve collections will be made available within five week days.
We will conduct an annual review of the Reserve collection.
Items will be re-shelved with 24 hours of being returned from loan, or collected from within the library.
Entire collection will be shelf read at least twice annually.
Items identified as missing from shelves will be searched three times within three weeks.
Items in the Bronfman Business Library storage area will be retrieved within 15 minutes of request unless we are short staffed.
95% of all workstations will be operational at all times, subject to network availability.
Items sent for binding will be absent from the collection for a maximum of four weeks.
Complaints or user problems will normally receive a written or verbal response within three week days.
Enquiries concerning the application of the Lending Code will normally receive a response within four weeks and during that time privileges are re-instated until a decision is made.
Petitions and appeals will normally receive a response within two weeks.
Feedback from Users
You can provide feedback on library collections and services in a variety of ways:
Participates in Library surveys, focus groups etc. including the  LibQUAL+ Surveys
Respond to Library instructions student evaluation forms
Use the Web page suggestions link
Place suggestions or comments in the Suggestion Box we provide in the library at the front desk
Share informal suggestions and complaints with staff and/or Head of the Peter F. Bronfman Business Library
Faculty may choose to offer feedback by communicating with their relevant assigned  subject liaison librarian
Complaints Procedure
Your comments, suggestions and criticisms are important to us and help us to improve our collections and services. If you have a complaint:
Contact the staff member you have been dealing with in the first instance
If you believe the complaint cannot be resolved by that person, you can do one of the following

If the complaint is related to borrowing, fines, holds or reserves, contact the Circulation Coordinator
For all other complaints, including non-resolution of a complaint related to borrowing, fines and comments about staff etc. contact the Branch Access Service Manager of the Peter F. Bronfman Business Library.
You can expect a response within 3 week days of the submission of the complaint.
Please send questions or comments to Tanya Prince tprince@yorku.ca