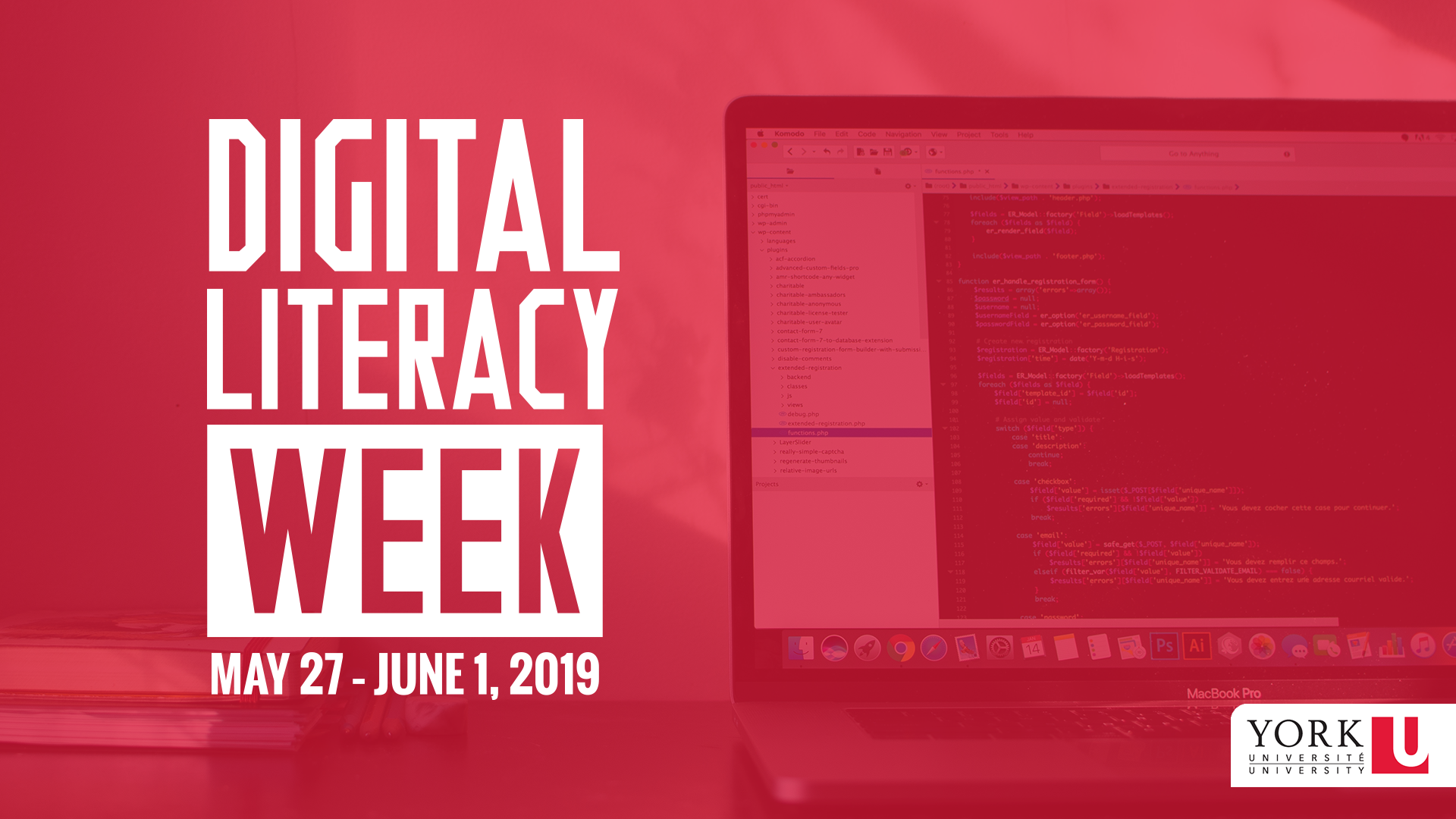 The City of Toronto is celebrating Digital Literacy Week from May 27 to June 1, and York University Libraries is a partner in the event, hosting a wide-range of events for students, faculty, and the community later this month.
More than 35 partners will be participating in the second annual showcase, which has expanded from last year's Digital Literacy Day into a full week of events around the GTA.
The Libraries are hosting events throughout the week, with topics such as fake news, opening up academic research to a wider community, and even an inside look at IBM and how the company helped develop the information age.
A full list of the events being held on campus is available below. For more on what's happening across the GTA, click here.
Fake News and the 2019 Federal Election
With a federal election coming up in October, learn how to best separate the real news from all the fake information circulating online. John Dupuis and a panel of experts will discuss just what constitutes Fake News, why it is so prevalent, and how to spot it when you do see it.
Date: Monday, May 27
Time: 1-2:30 p.m.
Location: Scott Library – Collaboratory
Opening Up the Academy – harnessing the power of community collaborations to advance research and scholarship
Joy Kirchner, Dean of Libraries, York University, will describe trends in citizen participatory research and scholarship by drawing upon a variety of examples that speak to a new vision for citizen engaged research and scholarship.
Date: May 28
Time: 11 a.m. – 12 p.m.
Location: Steacie Library
Research Data Training Camp
This day-long event aimed at graduate students will cover the basic data management and research computing skills needed to get more out of one's research in less time. Covering everything from how to create a data management plan to how to clean your data with R and OpenRefine, this workshop will help take your research to the next level.
Date: May 30th, 2019
Time: 9am-5pm
Location: Scott Library
NOTE: Registration for this event is complete with no spots remaining. We will be offering another workshop later this fall. 
Portraits of Digital Canada: A Photo Exhibit
Get an inside look at how one of the world's most influential companies has evolved from the early 20th century up through the beginnings of mainframe computing all the way up to this new era of digital literacy. Cultivated from thousands of photographs donated by IBM, see how Big Blue went from developing punch cards to shaping the way modern businesses work today.
Date: May 27 – June 1
Time: 8 a.m. – 11 p.m.
Location: Scott Library – First Floor