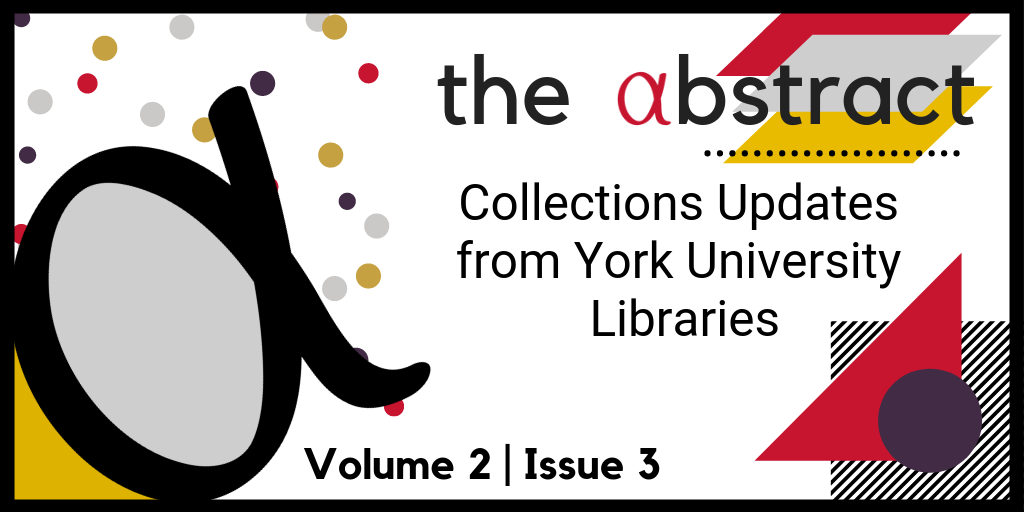 The latest edition of The Abstract, the triannual newsletter chronicling collection updates from York University Libraries, is now available. The publication is produced by members of the Libraries' Content Development & Analysis Department (CDA) and is designed to help the York community discover, use, and creatively engage with the research collections that are available through the Libraries.
Volume 2, Issue 3, of the newsletter coincides with CDA's first anniversary as a new department within the Libraries and highlights some of the key initiatives from the team over the past few months. Learn more about the Indigenous Content Working Group and their new approach to renewing and expanding the First Nations, Métis, and Inuit in Canada research guide, as well as the development of our Vendor Policy page that lists the privacy policies and terms and conditions for all of the products supplied by our vendors.
The issue also takes a look at the newest acquisitions in the Clara Thomas Archives and Special Collections and the rising popularity of using comics and graphic novels in academia, as well as highlighting several e-resources such as the Sage Video streaming platform, the Bloomsbury Design Library, and Shakespeare's Globe Archive.
For more on The Abstract, visit this link, or click on any of the links above to go directly to stories about the related collections.