With the cold weather coming, the book return bin previously located at the William Small Centre has been relocated to the colonnade covered hallway just outside of the Student Centre (West Entrance) as of Nov. 2, 2020.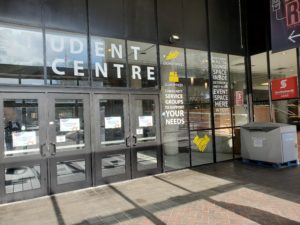 This location will protect the bin from winter weather and make the process of dropping off books a little easier. The bin will continue to be available 24/7. Please note that the need to quarantine returned books may mean your account will not show any updates for up to two weeks.
Please remember that we are not currently charging fines for books returned after the regular due date.