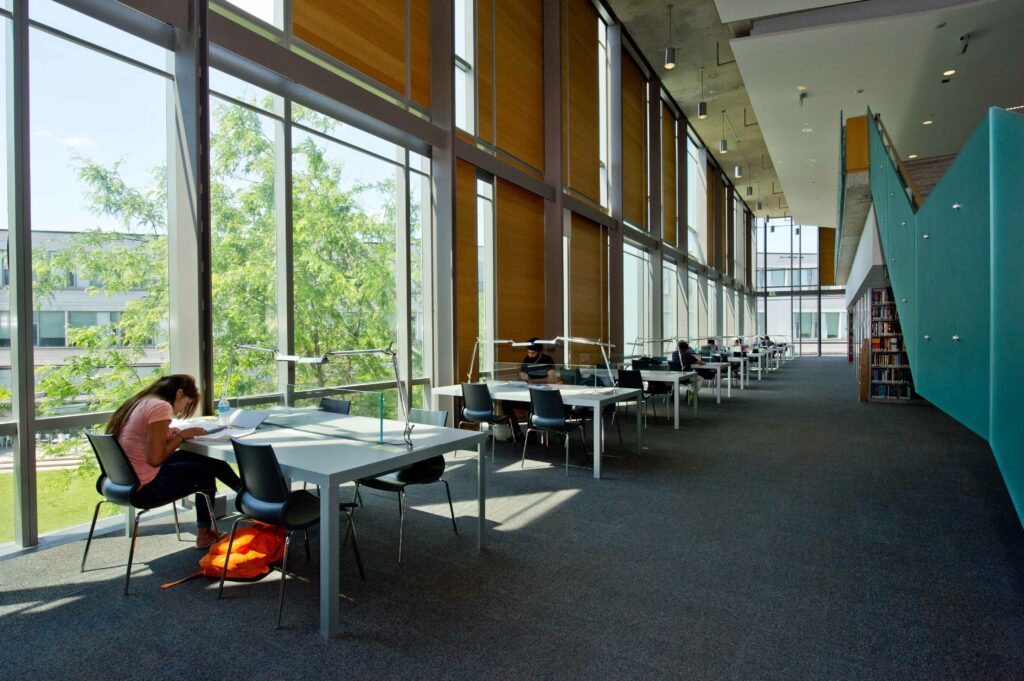 Whether you come to York U libraries to work or study, finding the right spot is key. Need to work with a partner or a group or just need some quiet space? No problem. Whether you study best in silence or in study nook with groups, our libraries have you covered. From Scott Library near Central Square to Bronfman Library at Schulich, to Steacie Library in the Science building and on Glendon campus with the scenic views at Frost, there are plenty of study spaces for all your needs. We asked our students to share their favourite spots. Our York U Libraries' peer mentor students, Taylor Wulf, Mila Sushkova, Musaddiq Ahmed, Timi Akinbaleye, Guillaume Jean and Subhay Anwar, share their favourite study areas.
Here's what they had to say:
Best place to get serious studying done
Taylor: If I need to get some serious studying done for finals, I like to go to Bronfman library on the 2nd floor because it is a quiet space and I'm able to get a lot done there.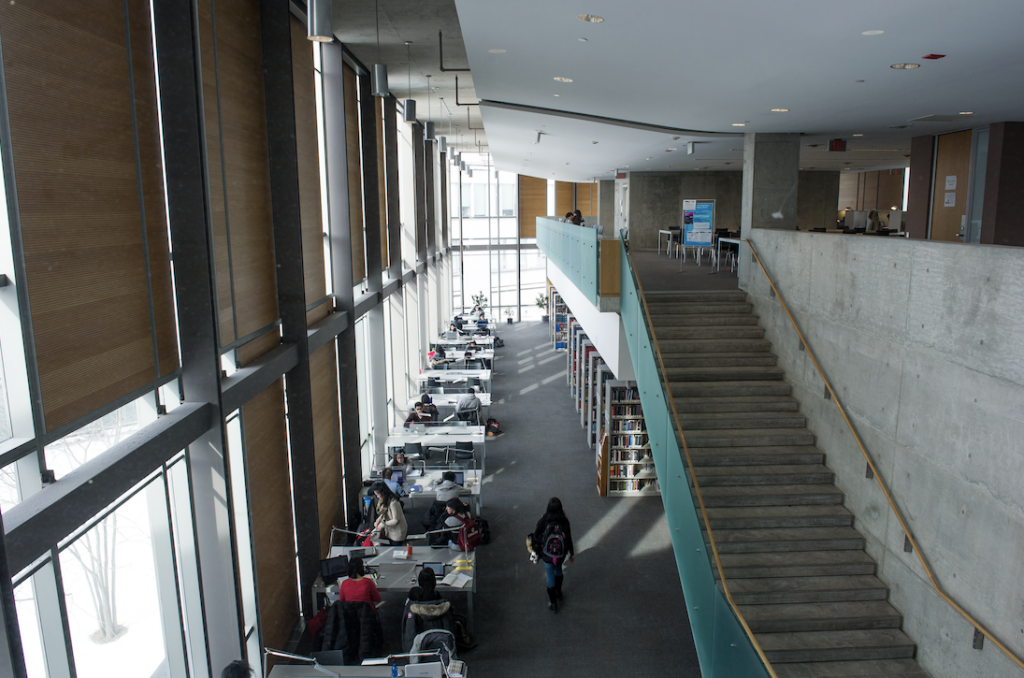 Musaddiq: 4th / 5th floors of Scott Library. The pin drop silence with practically zero distractions, helps me get my stuff done with full focus
Timi: My favourite study space during exams is Steacie because it is very quiet during exam time.
Guillaume: At Frost, I like the individual study stations along the windows on the second floor. The partitions provide some privacy that block any distractions while having a stunning view of the manor and the rose garden.
Mila: Bronfman library, it's really quiet but also has a lot of natural lighting so you don't end up feeling sleepy and can focus properly. There are also tables with lighting and then smaller individual study spots so plenty to choose from.
Best place to relax
Taylor: My favorite study space to relax is in the Bronfman Library lounge because the chairs are comfortable and there is a nice view.
Musaddiq: Marsden Salon. The space has cozy environment, comfortable furnishings and great wall art.
Mila: Scott library, study spaces on the balconies - can talk at a normal volume, can simply sit on the floor, not necessarily at the study carrels
Timi: Marsden Salon, this is because it is a small area where I can relax on the couch

Best place for group projects or group studying
Taylor: If I have a group project, I like to book the group rooms at either Bronfman or Steacie library because they are more enclosed and less prone to noise distractions than the ones in Scott.
Mila: Scott library 2nd floor - not fully expected to be quiet, can comfortably chat, usually plenty of space where you can sit together if needed.
Musaddiq: Collaboratory. It's spacious, has ample natural light and is very happening place which gets you going too!
Guillaume: At Frost, the study rooms are ideal for group work. They provide an enclosed space where we can talk, put our ideas on the board or connect our laptop to the screen.
Best place to work when you have a break in your schedule
Taylor: When I have to do work between classes, I like to go to the back area of the first floor of Scott Library because not many people go back there. It's nice to have "your own" space to get things done.
Mila: Scott library, it's in the center and close to where all my classes are, and I can usually find a table to sit at and do some reading.
Musaddiq: Scott's Maps Library. It's nice, quiet and really close to my lecture halls.
Guillaume: At Frost, I usually go work in the Reference Room. I like the atmosphere with the floor to ceiling bookshelves that remind me of an old library.
Best place for quiet space to work with a partner
Musaddiq: Group Study Rooms are ideal to work with partner in quiet place. It is private conversation friendly space so you can collaborate without any hassle.
Taylor: If I need a quiet space to do work with a partner, I like to use the Steacie or Bronfman group rooms for the same reasons stated above.
Subhay: Scott study rooms are the best place to work with a partner because they know the location and it's easier to book with longer open times so it can be accessed in late hours after everyone's classes.

Mila: Bronfman/Scott study rooms - quiet enough but can still talk if needed and also private enough that you don't have to worry about others overhearing your conversations
Favourite Hidden Gems at York U Libraries
Taylor: My "hidden gem" place at the libraries would be the back-most cubicle space on the second floor of Bronfman Library. There is a nice view from the window, and there are fewer noise distractions than on the first floor.
Musaddiq: Micro-reader room. The place is usually empty and so is basically your own private group study room that you do not have to book beforehand.
Subhay: 5th floor balcony study area which is not too quiet but quiet enough for you to work with a partner in relative silence and focus.
Mila: It wouldn't be a hidden gem otherwise (4th floor at Scott - it's super quiet and, if I'm not mistaken, also where the Loeb Classics editions are (call number is PA, I just forget which floor that is). I like to choose a study table, grab a couple off the shelf and flip through them.
Watch our students on Instagram take you on a tour of their favourite spots here.
For more information on how to book a study space click here.