Making Learning Universally Accessible
Library Accessibility Services and the Adaptive Lab at York University's Scott Library is continually enhancing its service of providing students with print disabilities, access to texts and information that they otherwise would not be able to read.
For many university students, conducting deadline-driven research for multiple courses and subsequent essays or assignments can be a juggle. It can be even more daunting for those with a visual impairment, or any other print disability. A print disability, which affects approximately 10 per cent of all Canadians, is a learning, physical or visual disability that prevents a person from reading conventional print. This disability can impact a student's ability to obtain information from texts or utilize books and other written materials critical for their academic work and success.
For decades now, Library Accessibility Services and the Adaptive Lab at York University's Scott Library has continually enhanced its service of providing students with print disabilities, access to texts and information that they otherwise would not be able to read.
"A student with a print disability should have access to the same resources as their peers and not just what is already available in electronic format," says Claudio Iacoe, transcription coordinator Library Accessibility Services (LAS). "LAS is set up as a dedicated unit to offer support and acts as the production house for processing scans of sources that cannot be obtained via publishers or other electronic text repositories."
The LAS team can procure new hard copies via Acquisitions if required and scan items within a short turnaround time which is critical for students enrolled in their eight or more courses for their degree programs. Registered users are assigned to transcription assistants who typically work with the student throughout their entire time at York.
"This one-on-one model offers referred students more personalized assistance if required, as well as continuity with the support," says Iacoe. "The unit liaises closely with counsellors from Student Accessibility Services (SAS) and staff from the Assistive Technology Lab, in the Dahdaleh building and offering specific training on assistive software and hardware."
— Claudio Iacoe, transcription coordinator Library Accessibility Services (LAS), York University Libraries
Read More about York University Libraries' Accessibility Services
With a team of just four staff, Iacoe, says the YUL accessibility services team has made a significant impact. To date, there are currently close to 700 active users at York receiving alternate formats of texts or requiring access to the adaptive lab in Scott Library. In the Fall/Winter 2022-2023 term alone, the unit supported close to 400 users on alternate format requests. Each of these users will return for each term of their four or more years and the unit will see additional students every year as new students are admitted to York University.
By the numbers
698
current active users at York University receiving alternate texts/requiring access to Adaptive Lab
400+
Requested alternate formats for course readings in 2023
20, 769
Number of items now in Papyrus database
2986
Students and faculty referred to York Library Accessabilty services since launch in 2011
"Every year during convocation season, our Library Accessibility Services receives flowers and touching thank you cards from various students who benefitted from our services," says Joy Kirchner, Dean of Libraries. "The appreciative notes usually say that the individual could not have graduated without our services and the kind attention of our team provided them. This wonderful team are truly making a difference to student success."
Iacoe has a passion for working with digitization technology and became interested in how material could be used with text-to-speech applications when he first began his role at LAS 17 years ago. Since that time, he has not only witnessed an increase in the demand for the Libraries' accessibility services but has also seen a greater awareness about accessibility and more supports available at York broadly.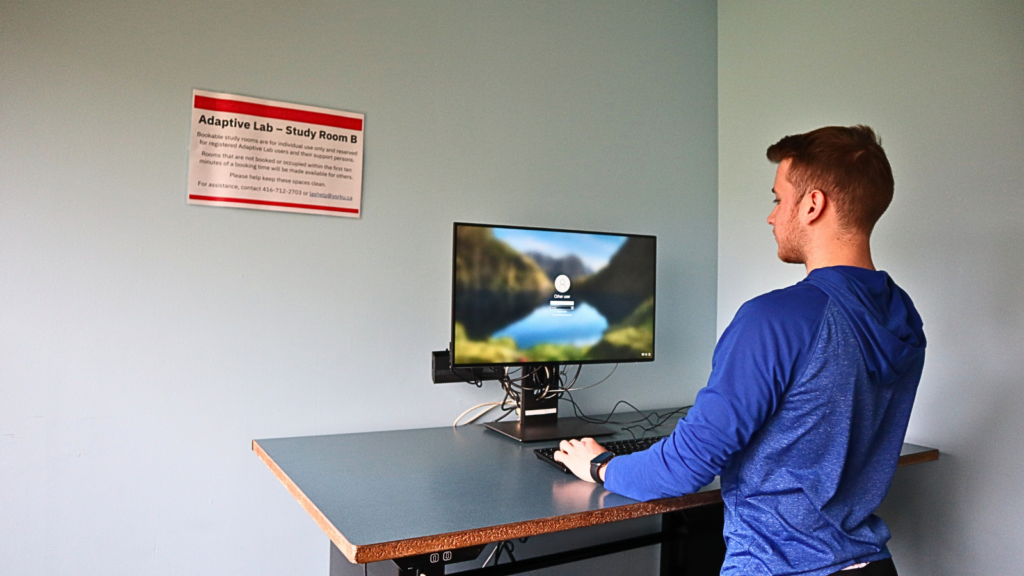 "When I started at the Libraries, providing alternate format readings for example was seen as the responsibility solely of one office," says Iacoe. "Currently supports are more extensive and there is greater cooperation with departments across the university including faculty, technical supports, online publishing, etc. to address any issues with accessibility as a standard practice rather than wait for an individual to bring attention to what may be lacking."
The Adaptive Lab also features computer programs such as Kurzweil, Dragon Naturally Speaking and ZoomText. These technologies can read text out loud, create written documents using dictation and zoom or enlarge everything on a computer screen. The various software makes text accessible for people who have print disabilities and otherwise would not be able to have access to the information.
"I think York University Libraries goes above and beyond with regards to the number of requests we receive and service, particularly from graduate students," says Iacoe. "I believe our ability to secure a digital edition of any source from the library collection and not just required and recommended texts, is what sets us apart from other universities. In recent years LAS has acquired accounts for several e-text repositories greatly expanding quick access to digital material."
—Claudio Iacoe, transcription coordinator Library Accessibility Services (LAS), York University Libraries York University.
In 2011, the LAS team spearheaded the creation of Papyrus, a database software created in-house at York U Libraries. This database is used to deliver electronic files to students immediately once they are processed or secured from publishers. LAS archives the in-house scans and can make these available to multiple students if necessary. Papyrus allows for efficient file delivery as well as archiving of all secured and in-house processed material.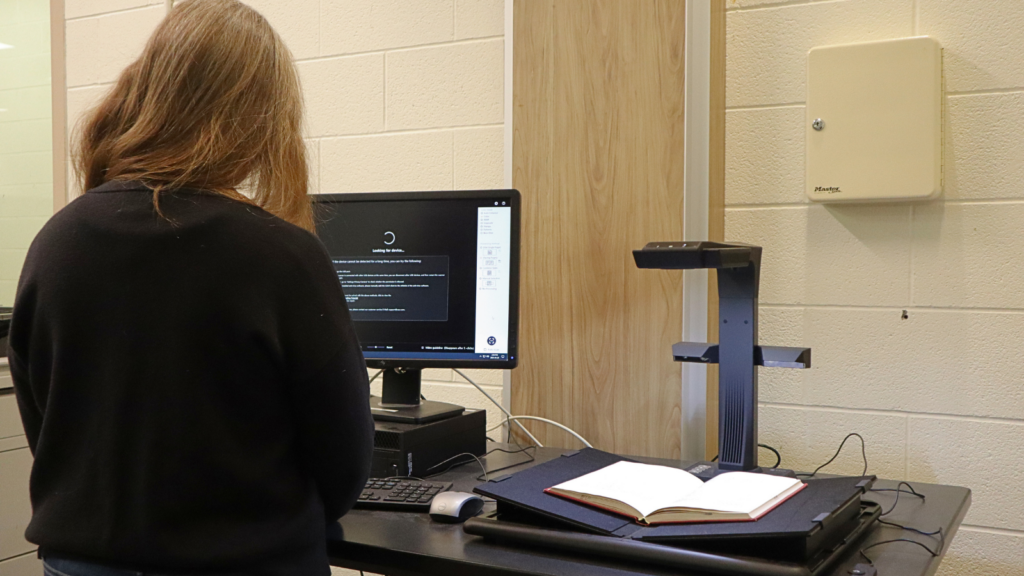 Since its launch over a decade ago, close to 3000 students or faculty have been referred to the service and to date, the database now contains 20,769 items. Students have access to any assigned material in their individual profile for the duration of the term. Papyrus archives all readings, registered student data, acquisition requests and metadata on courses users are enrolled in. A daily information feed from Student Accessibility Services imports new student referral records with counsellor and contact details to ensure LAS is always up to date regarding new students. LAS staff also have access to a complete audit trail of assigned materials and student activity to ensure a seamless process. 38 per cent of all materials archived have been made available to multiple users over the years.
"Papyrus has helped me greatly at succeeding in the courses which depend heavily on textbooks. I can use Kurzweil and listen to the textbook audio makes my studying more efficient," says one student user.
It is no wonder that the Dean was invited to participate in the Joint ARL (Association of Research Libraries) CARL (Canadian Association of Research Libraries) Task Group Force on Marrakesh Treaty Implementation. York University Libraries quickly became a recognized as a leading partner on the international task group to advance the implementation of the Treaty between the United States and Canada in the first pilot. It became clear through this work that York's Library Accessibility Services are regarded as an international leader in library services for those needing alternate formats of texts or those who require access to the Libraries adaptive lab to utilize assistive spaces and technologies to conduct research, course work or to study.
The task group, representing all major University libraries in Canada and the United States, is working through several pilot collaborations to inform the implementation of global sharing of content to support students and faculty who are blind, visually impaired or otherwise have a print disability. In 2023, York University Libraries led focus groups with York students who make use of the Libraries Accessibility Services, leading to the Task Group to consider an advocacy plan to advance global sharing of content to support those with print disabilities.
Iacoe says it's the student connection and the one-on-one work, that is above all else a strong source of pride for his team. LAS staff become an integral part of a student's academic years at York University, and their gratitude has left an impact.
"I had one student that was visually impaired who graduated and set up his own law firm and every once in a while, I still hear from him," says Iacoe. "You really don't realize something so simple as providing an alternate format and just leveling the playing field so that they have access to it can make such an impact. It's pretty rewarding."