Collections Updates from York University Libraries (YUL)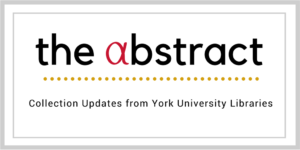 The Abstract
Volume 2, Issue 1 | November 2018
This work is licensed under a Creative Commons Attribution 4.0 International License.
CONTENTS:
Transforming Collection Management at York University Libraries
By: PATTI RYAN
Director, Content Development and Analysis
Over a year and half ago, York University Libraries (YUL) began a process of organizational renewal and restructuring. The goal was to develop an organizational structure that better enables the Libraries to help users thrive in an ever-changing academic landscape. As a result, all collections-related activities at YUL are now coordinated by the Content Development & Analysis Department (CDA). The department brings together expertise from across the Libraries to acquire, manage and provide York students and faculty with the broadest possible access to scholarly content and collections of significant breadth and depth. The CDA team will work with subject librarians across YUL to advance excellence in research, teaching, and learning on campus by:
strategically identifying, acquiring, and facilitating broad and equitable access to scholarly content in a wide variety of formats (e.g. books, journals, databases, data sets, etc.)
facilitating and advocating for fair and appropriate licensing of and access to electronic content, with an emphasis on open access
consistently analyzing how our collections and content are used by York University students and faculty across programs and disciplines in order to be responsive to emerging curricular and research needs
developing sustainable collection management practices that serve the entire York University community
CDA team members: 
William Denton, Scholarly Analytics Librarian
Aaron Lupton, E-resources Librarian
Leigh Jackson, Content Development Librarian
Rajiv Nariani, Content Development Librarian
Stephanie Power, Part-time Librarian
Patti Ryan, Director of Content Development and Analysis
Adam Taves, Associate Dean of Libraries: Research and Open Scholarship
Rob van der Bliek, Content Development Librarian
We invite comments, suggestions and feedback about any aspect of collections at York University Libraries. For more information about the work of this department, please contact Patti Ryan.
"Can I get that Online?" : Print and Electronic Spending at YUL
By: ADAM TAVES
 Associate Dean of Libraries: Research and Open Scholarship
A brief overview of the Libraries' collection budget was provided in issue 1 of The Abstract. Included in that overview was an accounting of the types of things the collections budget purchases – from scholarly monographs to financial data sets. How has spending changed with regards to how much YUL purchases in physical format versus online format?
If one looks at the shift since 2003, a definite trend becomes obvious: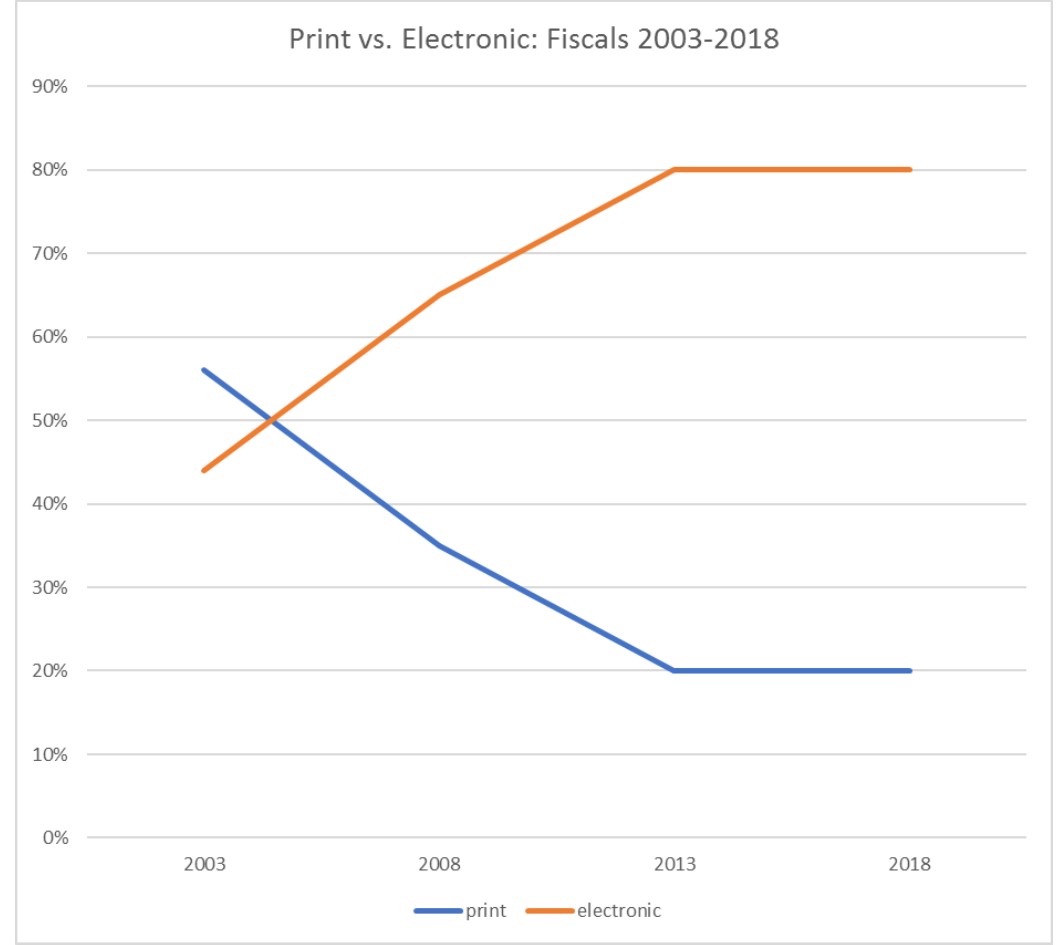 Over the last 15 years, YUL has seen a sharp decline in the proportion of the collections budget devoted to print and a substantial shift to facilitating online access.  The shift from print to electronic journals has been the most significant factor in this trend, but with that transition almost complete, it's likely that we will continue to witness a levelling (as seen over the past 5 years). YUL recognizes that physical collections still remain core for many disciplines and it continues to build and facilitate resource access accordingly.
That said, the Libraries provides access to electronic resources beyond journals: hundreds of thousands of e-books, tens of thousands of streaming films, and massive catalogues of streaming audio are now available to York students and faculty. CDA will continue assessing the scholarly publishing landscape and analyzing what works well for the York community (using a number of assessment tools that have been developed).
Spotlight: New and Unique Collections
By: STEPHANIE POWER
Part-time Librarian
Press Reader
PressReader delivers over 7,000 titles from the world's leading newspapers and magazines in an accessible, easy-to-use format, allowing you to view content from 120 different countries in more than 60 languages.
Busy students, staff, and faculty can now access the latest local, national, and international news (e.g. Toronto Star, The Globe & Mail, Washington Post) as well as leisure and lifestyle publications (Vogue, Esquire, etc.) directly from the library website or via the app on their own personal devices. Read your favourite newspapers and magazines exactly as they appear in print, or switch to the screen-friendly text view. Content is easily browsable by country, language, category, and/or publication type or through advanced search capabilities. For added accessibility, articles can also be translated into 17 different languages or read aloud via the audio integration feature.
With more and more publications putting up paywalls, PressReader offers access to current, full content news and magazines with back issue availability up to three months. This extensive collection is ideal for researchers looking for global resources and multinational perspectives on current news and events.
There are many ways the breadth of publication coverage offered by PressReader could be used at York and we look forward to seeing what the York community can create with the help of this new platform.
By: RAJIV NIRIANI
Content Development Librarian
Primal Pictures
YUL is pleased to announce a significant upgrade to Primal Pictures: Anatomy & Physiology, an experiential education database that is an important resource for Kinesiology and Health Sciences. The Primal Pictures 3D anatomy model is built using real scan data from the visible human project, and has been carefully segmented to create an unparalleled level of detail and accuracy. All of the content within this program has been verified by qualified anatomists and by a team of external experts for each body area.
This new version is iPad/Android compatible and has added functionality including 3D images, interactive illustration slides, and MRI views of anatomical structures. The upgrade allows Primal Pictures to be more easily integrated with large undergraduate classes, and can be used for both in-class and virtual instruction.
Metadata Matters: The International Library of African Music in South Africa
By: ROB VAN DER BLIEK
Content Development Librarian
For over 40 years, the Sound and Moving Image Library has held onto the The Sound of Africa series, which consists of 213 long playing albums (LPs) of African folk music from central and southern Africa, recorded mostly in the 1950s for The International Library of African Music in South Africa. The LP sets were sold to research libraries, accompanied by a very detailed and multi-faceted classification and cataloguing system. The system consists of three sets of index cards that allow for accessing and arranging the recordings based on geographic locale, language, social function, instrumentation, lyrics, musical patterns and tuning. There are a total of 800 index cards, preserving a rich and extensive picture of interrelationships between song, territory, and culture.
Here is an example of an index card:
And this is what the classification codes mean:
| | |
| --- | --- |
| 26.8 | the type of song, in this case a "drinking song" |
| TAm | code indicating that it is of territorial interest, authentically African, and of lesser musical interest |
| 13.11507 x 11 | instrument type, in this case a heptatonic mbira with 11 notes |
| 40/2/1 | language code, in this case Bemba |
| AMA.TR-182(B - 7) | disc number and placement of track on disc |
| FIC - 14 1952 | field recording reference number and date of recording |
The original recordings have been digitized and made available through Smithsonian Global Sound, hosted by Alexander Street Press, but without the wealth of metadata contained on the index cards. You could argue that it is this metadata that makes the collection unique and especially attractive to researchers, since that is where you can begin to ask questions and draw connections between distinctive musical cultures. But none of this has been transferred to the online environment. All the more reason to hold onto it for at least another 40 years.
Newly Described: Recent acquisitions in the Archives and Special Collections
By: KATRINA COHEN-PALACIOS
Archivist
The following archival records have recently been processed, described, and are now available for researcher access! Acquisitions include:
The International Commission for the Co-ordination of Solidarity Among Sugar Workers (ICCSASW) fonds covers half a century of a Canadian based, ecumenical, overseas development organization devoted to the pursuit of economic justice for sugar workers worldwide
The Richard Jarrell fonds documents the work of the first non-astronomer elected to be a member of the Canadian Astronomical Society in 1975 and contains records pertaining to his work as an academic and historian of science with an interest in environmental preservation. Dr. Jarrell was Professor of Natural Science at York University and played a key role in the founding of York's Science & Technology Studies program
Consult the fonds register to view more archival holdings at York University Libraries.
Previous Issue: Volume 1, Issue 1 | December 2017