Collections Updates from York University Libraries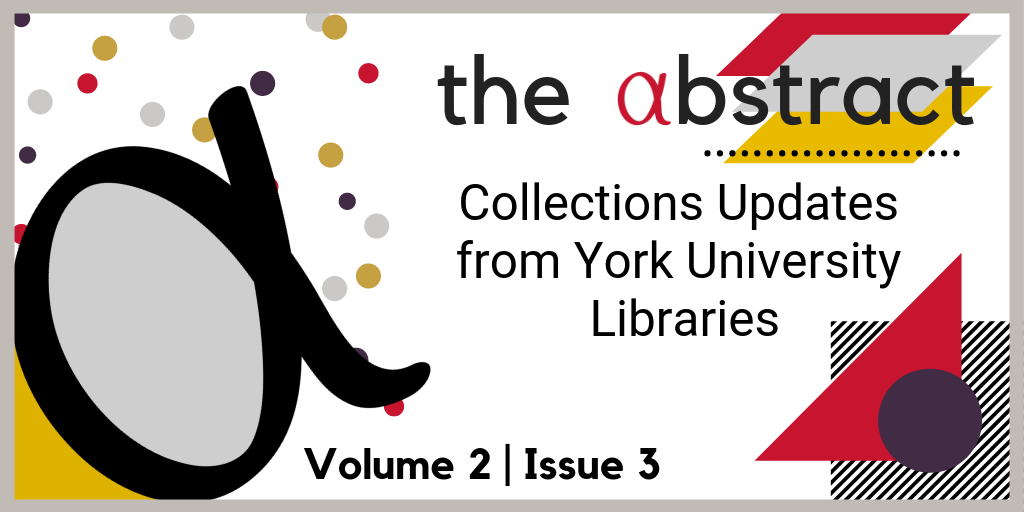 The Abstract
Volume 2, Issue 3 | July 2019
This work is licensed under a Creative Commons Attribution 4.0 International License.
CONTENTS:
The Year in Review: CDA Turns 1!
By: PATTI RYAN
Director, Content Development and Analysis (CDA)
This issue of The Abstract coincides with our first anniversary as a new department at York University Libraries (YUL). As part of a transformed organizational structure, CDA members have worked hard this past year to transition to a team-based approach to building and maintaining robust and responsive research collections at YUL. Bringing together disciplinary and functional expertise from across the Libraries, CDA is committed to ensuring that students and faculty at York have the resources they need to pursue excellence in teaching and research.
An overarching goal for CDA in year one was to enshrine sustainability, transparency, and inclusivity in all our content development work. To this end, we have begun to introduce more agile workflows for acquiring and maintaining collections, and to more clearly articulate the principles that guide content and licensing decisions at YUL. We have introduced new policies on Challenged Materials and Vendor Privacy, and have strengthened our efforts to negotiate fair and transparent terms of use and pricing in our license agreements with vendors and publishers. We are also working to improve how York students and faculty discover and make use of our collections through pages such as the A to Z database list, permalinks to eResources, and the eBook Libguide. Our first year as a department has also been characterized by a renewed commitment to ensuring that our library collections reflect the rich diversity of the York community and the research it produces, as evidenced by the work of the Indigenous Content Working Group (profiled in this issue), and by our rotation of thematic exhibits and displays across all YUL branches.
A key goal in all of this work is to ensure that YUL's collections budget is managed responsibly and transparently, and that spending is directly informed by evidence-based decisions and responsiveness to curricular needs. CDA is also working to direct more investment into sustainable open access models that help make research widely available to the global community, and is actively working with other YUL departments to uphold the values embedded in York's Open Access Policy, which was recently approved by Senate.
The CDA team invites you to browse and enjoy this latest issue of The Abstract, which highlights new initiatives and content recently made available through the Libraries.
Our very best to you for a restful and enjoyable summer. See you in September!
Building More Inclusive Collections: An Update from The Indigenous Content Working Group
By: NORDA BELL
Scholarly Publishing Librarian
National Indigenous History Month, observed every June, honours the history, culture and accomplishments of Indigenous peoples in Canada. But this recognition, like many other "cultural" months, ought not to be designated solely to one month. Instead, diversity and inclusion should be more than just a "one-off" event. York University Libraries strives to intentionally integrate diversity and inclusivity in our services, programs and collections on a daily basis.
How?
By understanding the Western and colonial lens libraries have traditionally used to select, acquire, collect and privilege certain knowledge, perspectives and formats over others;
By thoughtfully and critically approaching our collecting practices to ensure inclusivity;
By engaging with and focusing on the community and their perspectives.
In this spirit, the Indigenous Content Working Group (ICWG) recently renewed and expanded the First Nations, Métis & Inuit in Canada research guide. Over the years, there have been several iterations of the research guide;however, each iteration of these guides were created from a non-Indigenous perspective.
The ICWG met with Jamie Lee Morin, a Young Canada Works summer student, in 2018 to learn more about her work at Ryerson University Library and Archives on a similar resource. As well, the Libraries consulted with Ruth Koleszar-Green (Special Advisor to the President on Indigenous initiatives) to assess the guide from one Indigenous perspective and to help revamp the guide, which now includes a new landing page with land acknowledgement, a note about language, and links to on-campus supports and resources. In addition, several new pages were created including Research Methodologies, Archival and Government Sources, Special Subject Areas, Maps, Data & Statistics, and links to related Open Online courses.
Libraries are public repositories of the world's knowledge. The YUL continues to engage with the community to strengthen the Libraries' content by and about Indigenous peoples.
Electronic Resources and Privacy
By: WILLIAM DENTON
Scholarly Analytics Librarian
An important aspect of media literacy is privacy, and every year we hear more about how it's at risk online. Every web site you visit knows at least a few things about you, such as what web browser you're using and what your internet address (IP number) is. If you have an account on the site, it knows more about you.
If the site uses advertising or has other trackers embedded in its pages then its other sites may be tracking you as you move from around the web. This is why you see ads in Facebook about something someone emailed you about, or why prices change the more you look into buying a product or a plane ticket. (If you want to start blocking these trackers, install uBlock Origin in your browser.)
This same tracking happens, to a lesser extent, on the hundreds and hundreds of online resources that the Libraries pays for. Every time you visit very popular sites like JSTOR, PsycINFO, Science Direct, or ones that cater to narrower interests, like MathSciNet or the Jazz Discography, you're being tracked.
It's probably nothing to worry about, but it is something to know about and watch. That's why we created a vendor policies page that lists the privacy policies and terms and conditions for all of the products we buy from vendors. It's a very long list, but if you ever want to know what information the vendors have on you and what they're doing with it, now all their policies are together in one place.
The underlying data set is freely available on GitHub at vendorpol. We hope it will be useful to other libraries and privacy researchers.
In future issues of The Abstract, expect to hear more about what York University Libraries is doing to support media literacy and to protect your privacy in the platforms we make available. In the meantime, we highly recommend the new book The Age of Surveillance Capitalism: The Fight for a Human Future at the New Frontier of Power by Shoshana Zuboff, and, if you want to be really private when you browse the web, check out Tor.
Comics for Leisure and Research
By: STEPHANIE POWER
Part-time Librarian
In recent years, comics and graphic novels have become increasingly popular not only for leisure reading but in academia as well. As a pedagogical resource, comics and graphic novels open up new perspectives and opportunities for students and researchers to study sequential art, communication, design, pop culture, and a myriad of other subject areas in new ways. The new Comics & Graphic Novels Research Guide highlights YUL's current holdings, provides instruction on the best ways to search for them, and opportunities for study in the English, Visual Arts, and Art History departments.
Recently, a small-scale collections initiative to expand and promote York's holdings of comics and graphic novels was completed by Part-Time Librarian Stephanie Power and Content Development Librarian Leigh Jackson in anticipation of the Toronto Comic Arts Festival (TCAF) held annually at the Toronto Reference Library. In addition to York's growing collection of over 2,000 comics and graphic novels, these recent acquisitions demonstrate the possibilities of the medium and the diverse voices that it attracts. New additions include titles by local Toronto artists Micheal DeForge and Eric Kostiuk Williams, as well as works on a variety of topics including LGBTQIA+ rights, indigenous history, and workers rights.
Recent Acquisitions in the Archives and Special Collections
By: JENNIFER GRANT
Archivist
The following archival records have recently been processed, described, and are now available for researcher access! 
Previous Issue: Volume 2, Issue 2 | March 2019