Collections Updates from York University Libraries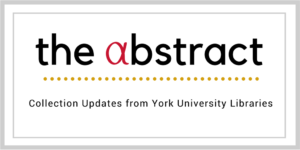 The Abstract
Volume 2, Issue 2 | March 2019
This work is licensed under a Creative Commons Attribution 4.0 International License.
CONTENTS:
An Introductory Note
By: PATTI RYAN
Director, Content Development and Analysis
I am pleased to introduce the second issue of The Abstract for the 2018 – 2019 academic year. The Abstract is collaboratively produced by members of the Content Development & Analysis Department (CDA) at York University Libraries. It is designed to help the York community discover, use, and engage creatively with the rich and unique research collections that are made available through the Libraries.
Established In July 2018, CDA is the library department dedicated to building and curating high quality, accessible and multidisciplinary collections that enable innovative research and teaching. The CDA team is committed to ensuring that our community has the broadest possible access to this content, whether through advocating for fair and appropriate licensing terms, or through strategic investment in sustainable models for open access and open data content.
The Abstract is a key element in CDA's continuing efforts to put relevant and timely content directly into the hands of students and faculty – and to reduce barriers that limit discovery and access to our rich collections.
We invite you to explore and enjoy the resources profiled in this issue, and to consider how they might enhance your teaching, research, or your academic work. We also welcome suggestions and feedback about The Abstract, or about any aspect of library collections.
eBooks in Academic Libraries
By: PATTI RYAN
Director, Content Development and Analysis
While much "ink" has been spilled on the question of the future of the print book, one thing is certain: eBooks are an increasingly popular choice for readers. According to The State of Digital Publishing 2017, 18.6% of all book sales in Canada were eBooks, up from 16.9% in 2016. More and more publishers are also getting into the eBook business, with 94% of publishers reporting that they are producing eBooks.
These trends are reflected in North American academic library collections. According to data from the National Center for Education Statistics, in 2017 59% of academic library collections in American Title IV degree-granting universities were digital (up from 53% in 2016). A similar trend is happening in Canadian academic libraries. A recent Canadian Association of Research Libraries report confirms that the amount spent on electronic content has been steadily increasingly, while expenditures for print content has declined.
York University Libraries is an excellent gateway to extraordinary electronic content, including over 900,000 eBooks. Our collection includes titles that we have purchased or leased from a variety of content providers (ex. Scholar's Portal Books, ProQuest eBook Central, Greenleaf Online Library, etc.)  While the ease and 24×7 availability of these titles makes them very popular, the eBook market for academic content is quite complex – and not as mature as the market for trade or popular materials.
Factors such as costs and licensing terms can significantly impact the Libraries' ability to provide access to eBook content, and the variability in the design and features of eBook platforms can sometimes be a challenge for our users. To help provide clarity and make sense of the current eBook climate, CDA librarian Stephanie Power recently undertook a revision of the Libraries' online eBook guide.  Of particular interest is the FAQ section, which we hope answers all your common questions – plus a few you may have not thought of!
Canadiana Online Goes Open Access
By: STEPHANIE POWER
Reference and Collections Librarian
As of January 1, 2019, over 60 million pages of Canadian documentary heritage have been made freely available. Canadiana's extensive full-text historical content across its three flagship collections (Early Canadiana Online, Canadiana Online, and Héritage) is the largest assemblage of early textual Canadiana. Students, historians, and researchers from around the globe now have the opportunity to access books, magazines, government documents and nationally-significant archival materials from as far back at 1600.
The move to open access was facilitated by the recent merger between the Canadian Research Knowledge Network (CRKN) and Canadiana, allowing for coordinated representation as part of the Canadian National Heritage Digitization Strategy. This partnership has opened up new opportunities for the access, digitization, and preservation of Canadian heritage materials – including over 40 million pages of Library and Archives Canada's most popular and sought-after materials. The decision to remove paywalls is being lauded by information professionals and historians alike, by offering unprecedented access to some of the country's most important and intriguing early materials.
Spotlight: New and Unique Collections
By: STEPHANIE POWER
Reference and Collections Librarian
This web-based data visualization application lets you create striking thematic maps using census, consumer, business and marketing data. With minimal technical expertise required, SimplyAnalytics allows the user to generate detailed interactive maps using thousands of data variables from sources such as Environics, the Canadian Community Health Survey, and Statistics Canada.
The acquisition of SimplyAnalytics allows users of all levels to generate a meaningful and interesting data set. Easy-to-use dropdown menus at the top of the page allow you to change location, data variable, or geographic unit. Focus your map on a particular census division or forward sortation area (postal code) to dig into the demographic makeup of a city neighbourhood. The tool can also generate detailed reports on any geographic location; simply choose your desired location and variable to generate a report in seconds. Business students and faculty members will find the detailed business profiles and revenue data particularly useful, while social sciences and humanities researchers can easily study socio-economic trends and health information. For a tutorial on using SimplyAnalytics for business and market research, visit the Libraries' online guide.
By: ROSA ORLANDINI
Maps and GIS Librarian
York University's Map Library has a growing collection of reproduction/facsimile atlases and map folios from the mid 15th Century to the 20th Century. This includes (and not limited to):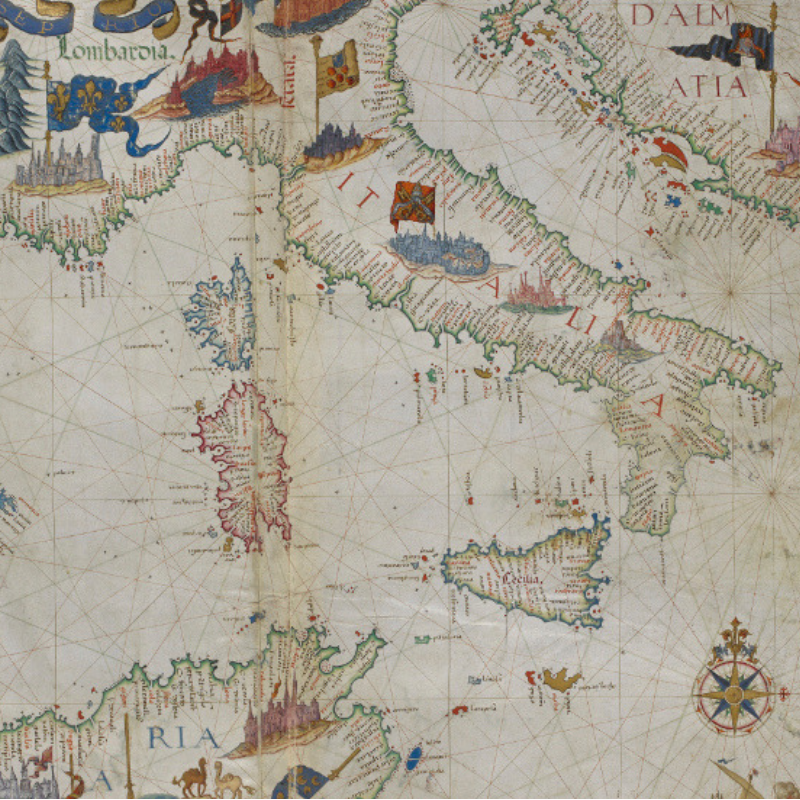 Recently the Library was fortunate to acquire a facsimile of the Queen Mary Atlas. The original presides at the British Library. According to the publisher, the Folio Society, the atlas is one of the most remarkable manuscripts in the history of map-making, marking the move from the medieval world view to the more rational approach of the Renaissance. Commissioned by Mary Tudor, the renowned Diogo Homem created maps of a world dominated by Spain and Portugal to interest Mary's husband, Phillip II of Spain."

The Queen Mary Atlas and the other facsimile/reproduction maps and atlases are available for consultation at the Library. If you are interested in using these maps and atlases for teaching purposes, contact the Map Library at gislib@yorku.ca.
Newly Described: Recent Acquisitions in the Archives and Special Collections
By: KATRINA COHEN-PALACIOS
Archivist
The following archival records have recently been processed, described, and are now available for public access.
Beverley Salmon

 Fonds: highlights the political and activist work of the first black woman elected municipally in Toronto.

Yvonne Vera

 Fonds: records the activities of the prominent Zimbabwean writer of English fiction while in Canada.

Robert Witmer

 Collection: contains hundreds of North American, Caribbean, and Indigenous music recordings and interviews.

Michael Davey

 Fonds: pertains to the Canadian artist's work including aluminum hockey blades and a granite puck.
New material has also been added to the fonds of Jean Augustine, Don Coles, and Joyce Wieland. Researchers can consult the fonds register to discover more archival holdings available at York University Libraries.
Previous Issue: Volume 2, Issue 1 | November 2018