On Wed May 31 and Thurs Jun 1 the 2nd to 5th floors of Scott Library will be closed at 3:30pm for Congress Events.
Leslie Frost Library
---
The Leslie Frost Library serves the research, teaching and learning needs of the Glendon community. Our collections reflect the bilingual nature of York University's bilingual campus.
LOCATION
---
Next to Glendon Hall
2275 Bayview Avenue
Toronto, ON M4N 2M6
416-487-6726
frostref@yorku.ca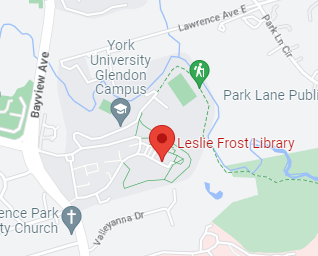 Available at Frost
---