YorkU Libraries will be closed Thanksgiving Day, Monday Oct 9, 2023.
As of July 6, the RACER platform will no longer be available. All requests can be made through OMNI. For more info visit our webpage here.
Leslie Frost Library
---
The Leslie Frost Library serves the research, teaching and learning needs of the Glendon community. Our collections reflect the bilingual nature of York University's bilingual campus.
LOCATION
---
Next to Glendon Hall
2275 Bayview Avenue
Toronto, ON M4N 2M6
416-487-6726
frostref@yorku.ca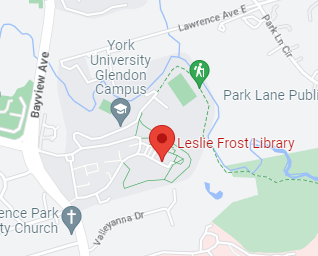 Available at Frost
---