The Bronfman, Frost, Scott and Steacie libraries are open to currently registered YorkU students, staff, and faculty. Book a space to study, connect to online classes while on-campus, browse the shelves, use course reserves, pickup and check out items, use the computers and photocopiers, and for any other in-person library service. Continue to pickup requested items in the book lockers or connect to virtual information and research help services without a space booking. Please complete YU Screen before coming to campus.
Scott Library
---
The Scott Library provides access to library materials, services and research assistance for those working in the humanities, social sciences, fine arts and environmental studies. We can also help you locate published data, statistics, and government publications.
Scott Hours
---
Oct 27
Wednesday
8am - 11pm
Location
---
Central Square, York University
Google Map
Ask & Services
We're online to help you with all your research needs and questions. Just ask!
---
Research & Learn
Connect with our library resources and services to get the help you need.
---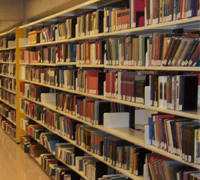 Specialized library materials in the humanities, social sciences, fine arts, and environmental studies.