The Scott Library provides access to library materials, services and research assistance for those working in the humanities, social sciences, fine arts and environmental studies. We can also help you locate published data, statistics, and government publications.
Ask & Services
We're online to help you with all your research needs and questions. Just ask!
Get to know Scott Library and the information services available to you.
Areas for studying, learning, and collaborating.
The fastest way to find books in the library.
Research & Learn
Connect with our library resources and services to get the help you need.
All the information and resources you need to get started.
Information for teaching, research, and studying.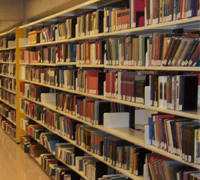 Specialized library materials in the humanities, social sciences, fine arts, and environmental studies.