The Ontario government has issued a stay-at-home order. Libraries are closed to all non-required use.
Libraries continue to operate contactless book lockers and select services. Those who have exceptional needs or require access to study space, printing, computers, etc., can contact askusyul@yorku.ca for assistance. The screening checklist must be completed before coming to campus.
Scott Library will be without power on May 17 from 10:00 p.m. to 6:00 a.m. the next morning to complete necessary maintenance on the electrical system. As servers hosted in the library will be affected by the outage, some services may be disrupted, including YorkSpace, York University Digital Library, York Digital Journals, Scalar, Pressbooks and others.
Scott Library
---
The Scott Library provides access to library materials, services and research assistance for those working in the humanities, social sciences, fine arts and environmental studies. We can also help you locate published data, statistics, and government publications.
Scott Hours
---
May 10
Monday
Study Space Appts
May 11
Tuesday
Study Space Appts
May 12
Wednesday
Study Space Appts
May 13
Thursday
Study Space Appts
May 14
Friday
Study Space Appts
Location
---
Central Square, York University
Google Map
Ask & Services
We're online to help you with all your research needs and questions. Just ask!
---
Research & Learn
Connect with our library resources and services to get the help you need.
---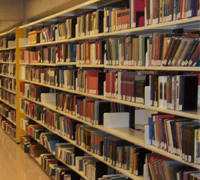 Specialized library materials in the humanities, social sciences, fine arts, and environmental studies.