How To Login
You will be automatically prompted to authenticate whenever you attempt to access a licensed eResource.
If you have cookies enabled and keep your browser window open you will only need to log-in once.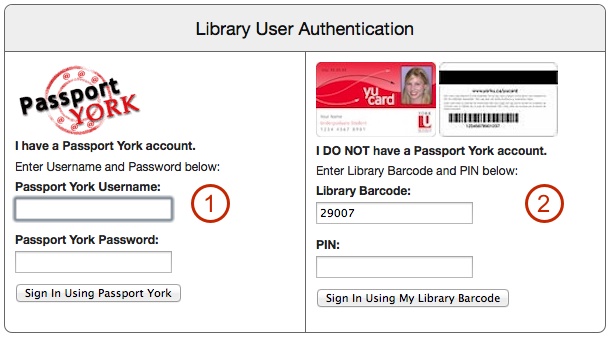 Option 1: Passport York
Current York University students, faculty, and staff will normally have a Passport York account and a library card (in the form of a YU-card for students and some employee groups) through which they will be authenticated as authorized York University users of licensed eResources.
Option 2: Library Card
Other members of the York University community who do not have a Passport York account will need to authenticate using the barcode number on their library card and PIN.
Why is access restricted?
The Libraries provide access to eResources (electronic resources, i.e., online journals, indexes, databases, and books) that is restricted by licenses with vendors to current York University students, faculty, and staff. In order to ensure that only current York University students, faculty, and staff have off-campus access to these licensed eResources, vendors require York users to authenticate as such.
Please read the Libraries' Acceptable Use Guide for eResources to learn how our eResources can be used in accordance with our licenses with eResource vendors.
Help
If you encounter problems with off-campus access to eResources, please contact us by e-mail or call 416-736-5150. Please be sure to indicate your name, e-mail address, student or employee number (or, if necessary, your library card barcode number), and the title of the eResource you were trying to access.