June Hill, Reference Assistant, Bronfman Business Library
Published THursday October 31st, 2013
What's old is new again.  Our larger format scanner is back! For returning students you may recognize the large format scanner aka "The Beast".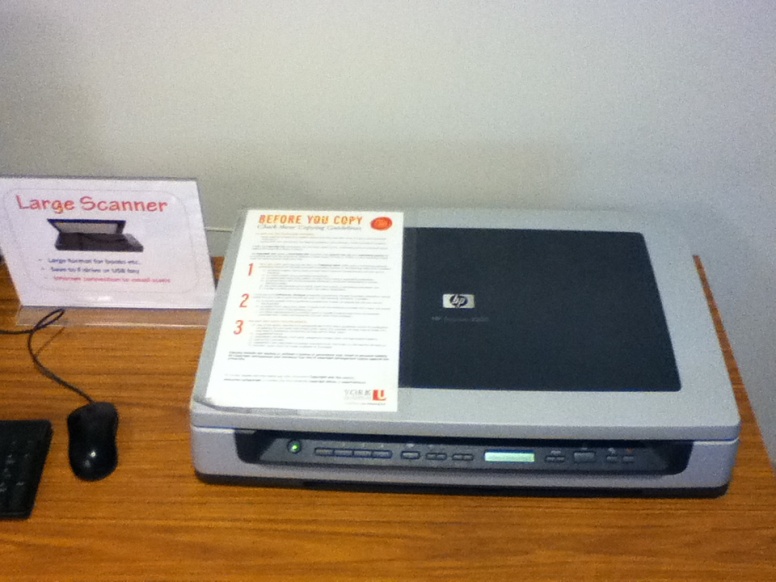 You will find our 2nd scanner in the photocopy room.
This scanner station has internet access so you can email scans right from the scanner computer.
You can save your scans into My Documents as well as onto a USB key
Remember to keep copyright regulations in mind when scanning.
To Scan:
you must have permission or a licence from the copyright owner; or
comply with York University's Fair Dealing Guidelines
Fair Dealing Guidelines for copying or scanning:
up to ten (10) per cent of a copyright-protected work, or the following, whichever is greater:
a)  one chapter from a book;
b)  a single article from a periodical;
c)  an entire artistic work (including a painting, print, photograph, diagram, drawing, map, chart, and plan) from a copyright-protected work containing other artistic works;
d)  an entire newspaper article or page;
e)  an entire single poem or musical score from a copyright-protected work containing other poems or musical scores; or
f)  an entire entry from an encyclopedia, annotated bibliography, dictionary or similar reference work
From the Before You Copy Poster – link available on the Scanning & Copying page.