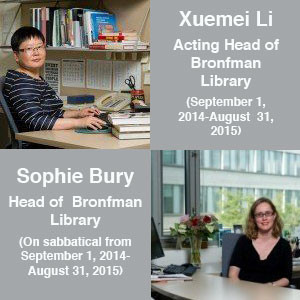 On September 1st 2014, Xuemei Li assumed the role of Acting Head of the Bronfman Business Library. Xuemei will be taking care of the Bronfman Library while I am on a one-year sabbatical leave.
Xuemei is responsible for a range of subject areas at Bronfman (see our liaison librarian's web page for more details) and is well known for her role as Bronfman's Finance Librarian. During her time as Finance Librarian, Xuemei has created invaluable resources such as the ever-popular finance guide and guides that cover specialized research tools like the Bloomberg Terminals.
Xuemei will continue to provide research help for her subject areas, while also performing the duties of Acting Head. Xuemei is well-positioned to take over the acting head role, as she has worked at Bronfman for over three years and has an MLIS from the University of British Columbia, a PhD (Webometrics) and MSc (Computing) from the University of Wolverhampton, UK and a B.A (Economics) from China. Learn more about Xuemei's skills and experience on our Staff Profiles page.
As for myself, I'm very excited to begin my sabbatical leave and I'm planning on doing a mixture of projects. On the research front, I hope to pursue the following:
Academic literacies research: Over the last four years, I've been very engaged with the Learning Commons at York and I have become very interested in academic literacies. I'm particularly interested in learning about faculty conceptions of academic literacies and how librarians, writing instructors and learning skills counselors can work with faculty and educational developers in a university environment to integrate attention to the development of academic literacies in the curriculum. I was awarded a small Academic Innovation Fund (AIF) research grant in 2012 with Ron Sheese, a professor in Psychology and Writing, to explore the pursuit of goals related to this research interest. I plan to build on conference presentations to date by documenting the results of this work, in both a theoretical and practical vein, in a scholarly article that Ron and I hope to publish in the library or higher education literature.
Information literacy research: Information literacy is a term librarians like to use a lot and at York we tend to think of it as the set of skills needed to find, retrieve, analyze, and use information. Information literacy also focuses on the development of a critical engagement with information and the information-seeking process.Teaching is one of my favourite pursuits and this extends to research too. I plan to work with my colleagues, Dana Craig and Sarah Shujah, on sharing research findings pertaining to the creation of an Information Literacy Award at York within the broader framework of the Undergraduate Research Fair (URF). The URF was set up with the goal of acknowledging and celebrating our undergraduate students' library research accomplishments, as demonstrated in assignments they submit. With my colleagues, I hope to build on what was shared at a recent conference, to illustrate the value such an initiative can play in both profiling and providing insights in to undergraduate students' conceptions and knowledge of information literacy skills.
Check out my personal website for more information about my research interests.
I also see my sabbatical as a time to read and learn about a range of topics, including articles and books about current business practice, teaching in a librarianship context, and much more. On the business knowledge front, I'm also planning on pursuing continuing education to improve my knowledge in areas such as leadership, management, marketing and branding. Given the ever-changing information environment and rapid advances in learning technologies, I also plan to upgrade my skills in this area by mastering some e-learning technologies and harnessing their abilities to create instructional and promotional videos that enhance the learning experience for York's business students.
Understandably, I'll be quite busy during my sabbatical, but I'll miss working at the Bronfman Library and I'm excited to come back in September 2015 with a variety of fresh ideas and research accomplishments!