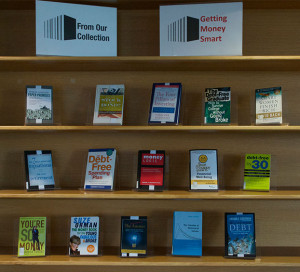 Being a student is full of challenges, as you need to juggle classes, part-time jobs, readings and copious amounts of assignments. However, creating a budget and making your student loans, savings, and bursary money last throughout the year can be a full-time job all on its own!  Fortunately, the Bronfman Library is here to help with our new book display called 'Getting Money Smart'.
The Bronfman Library staff have put together an excellent display of books that focus on a variety of issues such as creating a budget, being debt-free by 30, and being debt-free after completing a post-secondary education. Here is a sampling of just a few of the books in our Getting Money Smart display:
This book focuses specifically on the student experience and gives great tips on budgeting for university expenses and creating a realistic plan that will help you graduate with little to no debt.
The Debt-Free Spending Plan by JoAnneh Nagler
Learn how to create a budget you can live with, while also learning how to save for some of the luxuries you want in your life!
The Money Book for the Young, Fabulous and Broke by Suze Orman
Suze Orman is a well-known personal finance guru. This book is tailored to younger generations and their specific saving, spending, and budgeting goals.
Smart Women Finish Rich: 9 Steps to Achieving Financial Security and Funding your Dreams by David Bach
Written by another renowned personal finance guru, this book focuses on helping readers achieve their financial goals in 9 easy-to-understand steps.
To find our Getting Money Smart book display, go to the Bronfman Library (2nd floor of the Schulich Building) and head over to the fireplace lounge. You'll find the display by the newspaper shelves.
We couldn't fit all of the great gems from our collection into this display, such as a number of books from Gail Vaz-Oxlade, the host of Til Debt Do Us Part. Click on this link and you'll be able to see all of the online and print books on personal finance in the York University Library collection.
Also, if you'd like to read some more personal finance book reviews, take a look at this article by the Financial Post. It recommends the best personal finance books for readers under 30  (coincidentally the Bronfman Library has most of these books in its collection!).
You may also be interested in checking out some additional financial planning resources that York University has created for students.
Now that you know more about the library's personal finance collection, hopefully you'll visit our display, take out some books, and start creating a budget that will make the school year a little less stressful!